Algorithms can drive inequality. Just look at Britain's school exam chaos
By Zamira Rahim, CNN
Updated 12:01 AM ET, Sun August 23, 2020
London (CNN Business)Philip blames an algorithm for potentially losing his place to study law at university.
The 18-year-old, whose full name CNN is not disclosing because he feared repercussions from universities, was among more than 300,000 pupils in England, Wales and Northern Ireland who woke on August 13 to critically important 
A-level exam results
, which are broadly equivalent to the US high school diploma.
These exams were canceled this summer due to the pandemic. Student marks were instead determined by an algorithm, the
 Direct Centre Performance Model
, which was chosen by the government's exam regulator. The model drew on a collection of data to produce the grades. A subsequent outcry over alleged algorithmic bias against pupils from more disadvantaged backgrounds has now left teenagers and experts alike calling for greater scrutiny of such technology.
The teachers at Philip's west London school predicted he would gain 2 A grades and a B in his exams, which would have comfortably secured his spot to study law at Exeter University.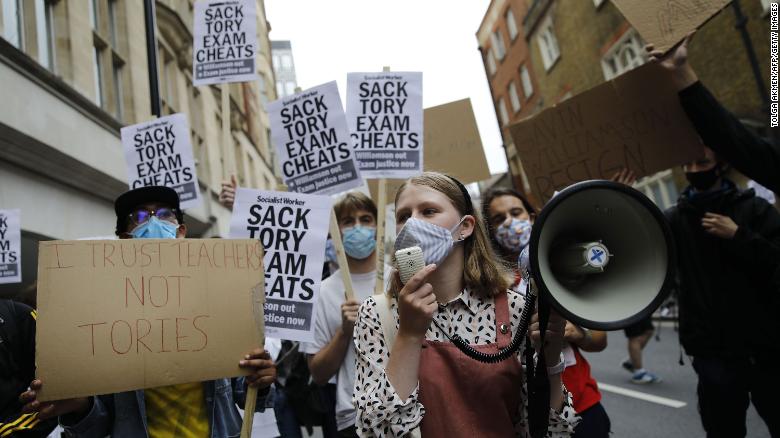 On August 13, the student sat at home trying to access the website that would confirm whether or not he had a university place.
"I was upstairs trying to get [the website] to load and my Mum was downstairs doing the same thing," he told CNN. "She got it open and shouted out. And they'd declined me.
"I didn't feel too good," Philip added. "Yeah, I was pretty cross about it. But everyone I was with was in a similar situation."
The model awarded Philip a B grade and 2 Cs. The teenager was not alone; close to 40% of grades in England were downgraded from teacher-predicted marks, with pupils at state-funded schools hit harder by the system than their private school peers. Many subsequently lost their place at university.
Uproar followed, with some teenagers protesting outside the UK department of education. Videos from the student protests were widely shared online, including those in which teenagers chanted: "F**k the algorithm!"
Following several days of negative headlines, Education Secretary Gavin Williamson announced that students would be awarded teacher-predicted grades, instead of marks allocated by the model.
The chosen algorithm was meant to guarantee fairness, by ensuring grade distribution for the 2020 cohort followed the pattern of previous years, with a similar number of high and low marks. It drew on teacher-predicted grades and teacher rankings of students to determine grades. But crucially it also took into account the historical performance of schools, which benefited students from more affluent backgrounds.
Private schools in England, which charge parents fees, typically have smaller classes, with grades that could not easily be standardized by the model. The algorithm thus gave more weight to the teacher-predicted grades for these cohorts, which are often wealthier and whiter than their downgraded peers at state schools.
"One of the complexities that we have is that there are lots of ways an algorithm can be fair," said Helena Webb, senior researcher at Oxford University's Department of Computer Science.
"You can see an argument where [the government] said [it] wanted to get results that look similar to last year's. And at a country-wide level, that could be argued as [being] fair. But it completely misses what was fair for individuals.
"Obviously this algorithm is reflecting and mirroring what has happened in previous years," she added. "So it doesn't [reflect] the fact that schools might [improve.] And of course that's going to have worse effects on state schools than on very well known private schools which have consistently higher grades."
"What's made me angry is the way [they] treated state schools," said Josh Wicks, 18, a pupil from Chippenham in Wiltshire, western England. His marks were downgraded from 2 A* and an A to 3 As.
"The algorithm thought that if the school hadn't achieved [high grades] before, [pupils] couldn't get them now," he told CNN. "I just think it's patronizing."
The political storm has left ministers in Boris Johnson's government scrambling for explanations, following heavy criticism of its handling of the coronavirus pandemic. Covid-19 has killed more than 41,000 people in the UK, making it the worst-hit country in Europe.
Why are some algorithms accused of bias?
Algorithms are used across every part of society today, from social media and visa application systems, to facial recognition technology and exam grading.
The technology can be liberating for cash–strapped governments and for corporations chasing innovation. But experts have long warned of the existence of algorithmic bias and as automated processes become more widespread, so do accusations of discrimination.
"The A-levels thing is the tip of the iceberg," said Cori Crider, co-founder of Foxglove, an organization that challenges the alleged abuse of digital technology. Crider told CNN that the algorithms replicated the biases found in the raw data used.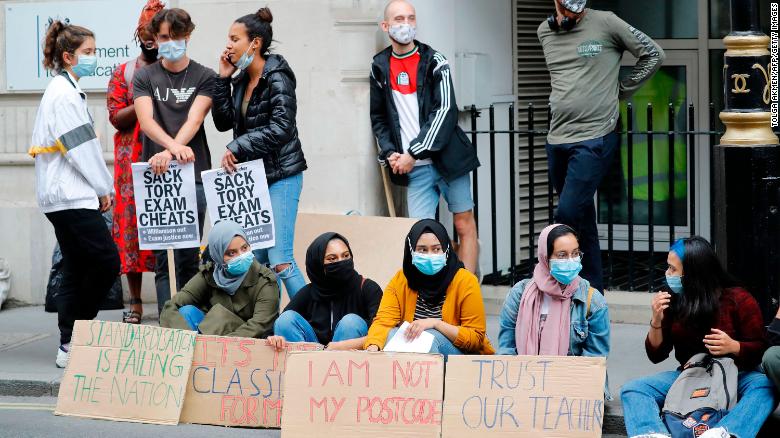 But Crider warned against the impulse to simply blame policy issues on the technology.
"Anybody who tells you it's a tech problem is [lying]," she said.
"What happened [with the exams] is that a political choice was made to minimize grade inflation. That's a political choice, not a tech one."
Foxglove and the Joint Council for the Welfare of Immigrants
 recently challenged the British Home Office over its use of an algorithm designed to stream visa applications. The activist groups alleged that the algorithm was biased against applicants from certain countries, making it automatically more likely that such applicants would be denied a visa.
Foxglove alleged that the screening system suffered from a feedback loop,"where past bias and discrimination, fed into a computer program, reinforce future bias and discrimination."
"We have been reviewing how the visa application streaming tool operates and will be redesigning our processes to make them even more streamlined and secure," a UK Home Office spokesperson told CNN.
"But we do not accept the allegations Joint Council for the Welfare of Immigrants made in their Judicial Review claim and whilst litigation is still ongoing it would not be appropriate for the department to comment any further."
Crider said the problems Foxglove found with past data leading to biased algorithms were evident elsewhere, pointing to the debate over predictive policing programs in the United States.
In June, the
 Californian city of Santa Cruz
 banned predictive policing over concerns that the analytic software program officers used in their work was discriminating against people of color.
"We have technology that could target people of color in our community — it's technology that we don't need," Mayor Justin Cummings told Reuters news agency in June.
"Part of the problem is the data being fed in," Crider said.
"Historical data is being fed in [to algorithms] and they are replicating the [existing] bias."
Webb agrees. "A lot of [the issue] is about the data that the algorithm learns from," she said. "For example, a lot of facial recognition technology has come out … the problem is, a lot of [those] systems were trained on a lot of white, male faces.
"So when the software comes to be used it's very good at recognizing white men, but not so good at recognizing women and people of color. And that comes from the data and the way the data was put into the algorithm."
Webb added that she believed the problems could partly be mitigated through "a greater attention to inclusivity in datasets" and a push to add a greater "multiplicity of voices" around the development of algorithms.
Increased regulation?
Activists and experts told CNN they hoped recent debates around algorithms would lead to greater oversight of the technology.
"There's a lack of regulatory oversight over how these systems are used," Webb said, adding that companies could also choose to self-regulate.
Some companies are becoming notably more vocal on the issue.
"Some technologies risk repeating the patterns developed by our biased societies,"
 Instagram CEO Adam Mosseri
 wrote in a statement in June on the company's diversity efforts. "While we do a lot of work to help prevent subconscious bias in our products, we need to take a harder look at the underlying systems we've built, and where we need to do more to keep bias out of these decisions."
Facebook, which owns Instagram, subsequently created new teams to review bias in company systems.
"I would like to see democratic pushback on [the use of algorithms]," Crider said. "Are there areas in public life where it's not acceptable to have these systems at all?"
While the debate continues in boardrooms and academia, these automated systems continue to determine people's lives in numerous and subtle ways.
For Philip, the UK government's scrapping of the exams algorithm has left him in limbo.
"We emailed Exeter [University] and phoned and they're in a kind of mess," he said, adding that he was hopeful he could win his place back. "I think I'll just defer now anyway."
Oracle and Salesforce hit with GDPR class action lawsuits over cookie tracking consent
Image Credits: Getty Images
The use of third party cookies for ad tracking and targeting by data broker giants Oracle  and Salesforce  is the focus of class action style litigation announced today in the UK and the Netherlands.
The suits will argue that mass surveillance of Internet users to carry out real-time bidding ad auctions cannot possibly be compatible with strict EU laws around consent to process personal data.
The litigants believe the collective claims could exceed €10BN, should they eventually prevail in their arguments — though such legal actions can take several years to work their way through the courts
In the UK, the case may also face some legal hurdles given the lack of an established model for pursuing collective damages in cases relating to data rights. Though there are signs that's changing.
Non-profit foundation, The Privacy Collective, has filed one case today with the District Court of Amsterdam, accusing the two data broker giants of breaching the EU's General Data Protection Regulation (GDPR) in their processing and sharing of people's information via third party tracking cookies and other adtech methods.
The Dutch case, which is being led by law-firm bureau Brandeis, is the biggest-ever class action in The Netherlands related to violation of the GDPR — with the claimant foundation representing the interests of all Dutch citizens whose personal data has been used without their consent and knowledge by Oracle and Salesforce.
A similar case is due to be filed later this month at the High Court in London England, which will make reference to the GDPR and the UK's PECR (Privacy of Electronic Communications Regulation) — the latter governing the use of personal data for marketing communications. The case there is being led by law firm Cadwalader.
Under GDPR, consent for processing EU citizens' personal data must be informed, specific and freely given. The regulation also confers rights on individuals around their data — such as the ability to receive a copy of their personal information.
It's those requirements the litigation is focused on, with the cases set to argue that the tech giants' third party tracking cookies, BlueKai  and Krux  — trackers that are hosted on scores of popular websites, such as Amazon, Booking.com, Dropbox, Reddit and Spotify to name a few — along with a number of other tracking techniques are being used to misuse Europeans' data on a massive scale.
Per Oracle marketing materials, its Data Cloud and BlueKai Marketplace provider partners with access to some 2BN global consumer profiles. (Meanwhile, as we reported in June, BlueKai suffered a data breach that exposed billions of those records to the open web.)
While Salesforce claims its marketing cloud 'interacts' with more than 3BN browsers and devices monthly.
Both companies have grown their tracking and targeting capabilities via acquisition for years; Oracle bagging BlueKai in 2014 — and Salesforce snaffling Krux in 2016.
Discussing the lawsuit in a telephone call with TechCrunch, Dr Rebecca Rumbul, class representative and claimant in England & Wales, said: "There is, I think, no way that any normal person can really give informed consent to the way in which their data is going to be processed by the cookies that have been placed by Oracle and Salesforce.
"When you start digging into it there are numerous, fairly pernicious ways in which these cookies can and probably do operate — such as cookie syncing, and the aggregation of personal data — so there's really, really serious privacy concerns there."
The real-time-bidding (RTB) process that the pair's tracking cookies and techniques feed, enabling the background, high velocity trading of profiles of individual web users as they browse in order to run dynamic ad auctions and serve behavioral ads targeting their interests, has, in recent years, been subject to a number of GDPR complaints, including in the UK.
These complaints argue that RTB's handling of people's information is a breach of the regulation because it's inherently insecure to broadcast data to so many other entities — while, conversely, GDPR bakes in a requirement for privacy by design and default.
The UK Information Commissioner's Office has, meanwhile, accepted for well over a year that adtech has a lawfulness problem. But the regulator has so far sat on its hands, instead of enforcing the law — leaving the complainants dangling. (Last year, Ireland's DPC opened a formal investigation of Google's adtech, following a similar complaint, but has yet to issue a single GDPR decision in a cross-border complaint — leading to concerns of an enforcement bottleneck.)
The two lawsuits targeting RTB aren't focused on the security allegation, per Rumbul, but are mostly concerned with consent and data access rights.
She confirms they opted to litigate rather than trying to try a regulatory complaint route as a way of exercising their rights given the "David vs Goliath" nature of bringing claims against the tech giants in question.
"If I was just one tiny person trying to complaint to Oracle and trying to use the UK Information Commissioner to achieve that… they simply do not have the resources to direct at one complaint from one person against a company like Oracle — in terms of this kind of scale," Rumbul told TechCrunch.
"In terms of being able to demonstrate harm, that's quite a lot of work and what you get back in recompense would probably be quite small. It certainly wouldn't compensate me for the time I would spend on it… Whereas doing it as a representative class action I can represent everyone in the UK that has been affected by this.
"The sums of money then work — in terms of the depths of Oracle's pockets, the costs of litigation, which are enormous, and the fact that, hopefully, doing it this way, in a very large-scale, very public forum it's not just about getting money back at the end of it; it's about trying to achieve more standardized change in the industry."
"If Salesforce and Oracle are not successful in fighting this then hopefully that send out ripples across the adtech industry as a whole — encouraging those that are using these quite pernicious cookies to change their behaviours," she added.
The litigation is being funded by Innsworth, a litigation funder which is also funding Walter Merricks' class action for 46 million consumers against Mastercard in London courts. And the GDPR appears to be helping to change the class action landscape in the UK — as it allows individuals to take private legal action. The framework can also support third parties to bring claims for redress on behalf of individuals. While changes to domestic consumer rights law also appear to be driving class actions.
Commenting in a statement, Ian Garrard, managing director of Innsworth Advisors, said: "The development of class action regimes in the UK and the availability of collective redress in the EU/EEA mean Innsworth can put money to work enabling access to justice for millions of individuals whose personal data has been misused."
A separate and still ongoing lawsuit in the UK, which is seeking damages from Google  on behalf of Safari users whose privacy settings it historically ignored, also looks to have bolstered the prospects of class action style legal actions related to data issues.
While the courts initially tossed the suit last year, the appeals court overturned that ruling — rejecting Google's argument that UK and EU law requires "proof of causation and consequential damage" in order to bring a claim related to loss of control of data.
The judge said the claimant did not need to prove "pecuniary loss or distress" to recover damages, and also allowed the class to proceed without all the members having the same interest.
Discussing that case, Rumbul suggests a pending final judgement there (likely next year) may have a bearing on whether the lawsuit she's involved with can be taken forward in the UK.
"I'm very much hoping that the UK judiciary are open to seeing these kind of cases come forward because without these kinds of things as very large class actions it's almost like closing the door on this whole sphere of litigation. If there's a legal ruling that says that case can't go forward and therefore this case can't go forward I'd be fascinated to understand how the judiciary think we'd have any recourse to these private companies for these kind of actions," she said.
Asked why the litigation has focused on Oracle and Saleforce, given there are so many firms involved in the adtech pipeline, she said: "I am not saying that they are necessarily the worst or the only companies that are doing this. They are however huge, huge international multimillion-billion dollar companies. And they specifically went out and purchased different bits of adtech software, like BlueKai, in order to bolster their presence in this area — to bolster their own profits.
"This was a strategic business decision that they made to move into this space and become massive players. So in terms of the adtech marketplace they are very, very big players. If they are able to be held to account for this then it will hopefully change the industry as a whole. It will hopefully reduce the places to hide for the other more pernicious cookie manufacturers out there. And obviously they have huge, huge revenues so in terms of targeting people who are doing a lot of harm and that can afford to compensate people these are the right companies to be targeting."
Rumbul also told us The Privacy Collective is looking to collect stories from web users who feel they have experienced harm related to online tracking.
"There's plenty of evidence out there to show that how these cookies work means you can have very, very egregious outcomes for people at an individual level," she added. "Whether that can be related to personal finance, to manipulation of addictive behaviors, whatever, these are all very, very possible — and they cover every aspect of our lives."
Consumers in England and Wales and the Netherlands are being encouraged to register their support of the actions via The Privacy Collective's website.
In a statement, Christiaan Alberdingk Thijm, lead lawyer at Brandeis, said: "Your data is being sold off in real-time to the highest bidder, in a flagrant violation of EU data protection regulations. This ad-targeting technology is insidious in that most people are unaware of its impact or the violations of privacy and data rights it entails. Within this adtech environment, Oracle and Salesforce perform activities which violate European privacy rules on a daily basis, but this is the first time they are being held to account. These cases will draw attention to astronomical profits being made from people's personal information, and the risks to individuals and society of this lack of accountability."
"Thousands of organisations are processing billions of bid requests each week with at best inconsistent application of adequate technical and organisational measures to secure the data, and with little or no consideration as to the requirements of data protection law about international transfers of personal data. The GDPR gives us the tool to assert individuals' rights. The class action means we can aggregate the harm done," added partner Melis Acuner from Cadwalader in another supporting statement.
We reached out to Oracle and Salesforce for comment on the litigation.
Oracle EVP and general counsel, Dorian Daley, said:
The Privacy Collective knowingly filed a meritless action based on deliberate misrepresentations of the facts.  As Oracle previously informed the Privacy Collective, Oracle has no direct role in the real-time bidding process (RTB), has a minimal data footprint in the EU, and has a comprehensive GDPR compliance program. Despite Oracle's fulsome explanation, the Privacy Collective has decided to pursue its shake-down through litigation filed in bad faith.  Oracle will vigorously defend against these baseless claims.
A spokeswoman for Salesforce sent us this statement:
At Salesforce, Trust is our #1 value and nothing is more important to us than the privacy and security of our corporate customers' data. We design and build our services with privacy at the forefront, providing our corporate customers with tools to help them comply with their own obligations under applicable privacy laws — including the EU GDPR — to preserve the privacy rights of their own customers.

Salesforce and another Data Management Platform provider, have received a privacy related complaint from a Dutch group called The Privacy Collective. The claim applies to the Salesforce Audience Studio service and does not relate to any other Salesforce service.

Salesforce disagrees with the allegations and intends to demonstrate they are without merit.

Our comprehensive privacy program provides tools to help our customers preserve the privacy rights of their own customers. To read more about the tools we provide our corporate customers and our commitment to privacy, visit salesforce.com/privacy/products/
6,600 organizations bombarded with 100,000+ BEC attacks
Cybercriminals are increasingly registering accounts with legitimate services, such as Gmail and AOL, to use them in impersonation and BEC attacks, according to Barracuda Networks.
BEC attacks impact thousands of organizations
In their most recent threat spotlight report, Barracuda researchers observed that 6,170 malicious accounts that have used Gmail, AOL and other email services, have been responsible for over 100,000 BEC attacks which have impacted nearly 6,600 organizations. What's more, since April 1, these 'malicious accounts' have been behind 45% of all BEC attacks detected.
Essentially, cybercriminals are using malicious accounts to impersonate an employee or trusted partner, and send highly personalized messages for the purpose of tricking other employees into leaking sensitive information, or sending over money.
Cybercriminals prefer Gmail
The preferred choice of email service for malicious accounts is Gmail, which accounts for 59% of all email domains used by cybercriminals. Yahoo! is the second most popular, accounting for just 6% of all observed malicious account attacks.
Researchers also observed that 29% of malicious accounts are used for less than 24-hour periods – most likely to avoid detection and suspensions from email providers. However, it's not unusual for cybercriminals to return and re-use an email address for an attack after a long break.
E-mail attacks
Having analyzed attacks on 6,600 organizations, Barracuda researchers found that in many cases, cybercriminals used the same email addresses to attack different organizations. The number of organizations attacked by each malicious account ranged from one, to a single mass scale attack that impacted 256 organizations — 4% of all the organizations included in the research.
Similarly, the number of email attacks sent by a malicious account ranged from one to over 600 emails, with the average being only 19.
"The fact that email services such as Gmail are free to set up, just about anyone can create a potentially malicious account for the purpose of a BEC attack. Securing oneself against this threat requires organizations to take protection matters into their own hands – this requires them to invest in sophisticated email security that leverages artificial intelligence to identify unusual senders and requests," said Michael Flouton, VP Email Protection, Barracuda Networks.
"However, no security software will ever be 100% effective, particularly when the sender appears to be using a perfectly legitimate email domain. Thus, employee training and education is essential, and workers should be made aware of how to manually spot, flag and block any potentially malicious content."